How to increase a Small Trading Account Successfully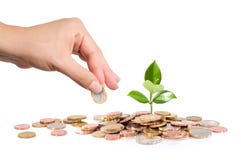 Most people who start trading Options and have relatively small trading accounts. I understand that you have the desire to grow your small trading account. And you want to do this risking and loosing as little money as possible.
Although this is not an easy goal to achieve, I will teach you how to be successful, with this new method.
You are only becoming successful if you are willing to be disciplined and change the way you think about trading the markets. In this post, I am going to share with you how to trade successfully with a small trading account. So, if you are desperate because you just can't seem to make any consistent progress with your small trading account, this article is for you.
How to grow small trading account
Before we dive into the details of today's lesson, it's worth mentioning that you are not experiencing difficulty in your trading because you have a small trading account. To be honest with you, the size of your trading account has no bearing on whether or not you are a successful as an options trader. A successful Option trader is not necessarily a full-time professional trader, this is a myth you need to forget about right now.
You need to view success in the markets as a function of what is possible given the size of your trading account. So, if you have a $2,000 trading account and you are consistently making $200 a weak, you should consider yourself a successful Options trader, even though you obviously cannot live on $200 a week, more on this later.
Some people come into the markets with a $50,000 or $100,000 account and lose all their money in a short period of time. While other traders start with $1,000 and par lay that small amount into a substantial trading account over time. The determining factor of success lies not in the size of the trader's account but in their beliefs about what successful trading consists of and what they need to do to achieve it.
– See more at: Learn to trade the market
Napoleon Hill would agree with; your mindset and attitude determines your success or failure in any endeavour, and it's no different with trading. Are you taking much risk and waiting for big profits or are you satisfied with making profits consistently?
Focus on winning trades, not on making the money
It is not a profound statement to say that making money in the markets is a result of successfully trading them, but it's worth examining this statement further to see just where most traders with small accounts go wrong.
The problem that plagues most traders with small accounts is that they are probably coming into the markets feeling a "need" to make money because they have put all the disposable income they have into their trading account and they really want to quit their jobs / get rich quick / buy a yacht, etc. The point is that trading the markets with a feeling of "need" results in you focusing most of your brain power on money and profits and much less of it on managing risk and mastering an effective Option trading strategy.
A trader needs to be good at trading a small account before they can move on to a larger account. I would even say that even if you do have a large sum of money to trade with, you should not fund your account with all of it until you have proved to yourself that you can make money on a smaller sum of money. Your focus should not be on turning a small account into lots and lots of money extremely quickly, this is simply not possible if you are managing your risk properly.
Your focus in Option Trading should be on the setup. Enter trades with defined risk and with a good chance to make a profit. You want to setup trades and keep a large portion of the premium you have received. You should use the right strategy and select options with the right Probability of Profit. You can do this by looking at the Delta of an option.
I trust that you like the post How to grow small trading account. Continue to read how to let your account size grow